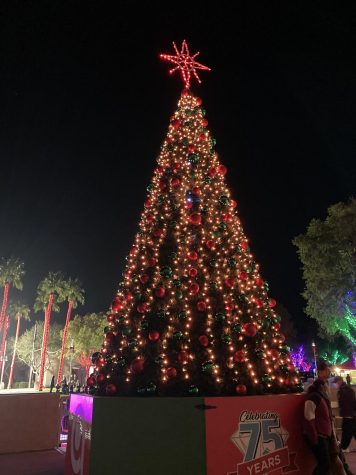 Hey lobos this is the season of winter the month of good joy the season of giving and love.
This month is where the festive lights are all shown off and the children are all cheering for Santa who they all wait for.
the Christmas music is playing and everyone is singing their hearts out and, in the air, it's the smell of hot chocolate and the smell of sweet chocolate popcorn.
Going to the Christmas parades throughout phoenix are such a joy and here are some parades that are happening through December so don't forget to mark your calendars here are some local parades that you should know about.
"There are so many things to do when its Christmas so it's best to write a lot of the event down so you don't forget," said Maria
APS Electric Light Parade on Saturday, Dec. 4, floats, decorated vehicles and performers will spread the holiday cheer through midtown Phoenix. When: 7 p.m. Saturday, Dec. 4. Where: Parade route begins at Central and Montebello avenues. Admission: Free.
"It was so family friendly that I even notice people even had their dogs too," said Monica Flores
The Holiday Light Experience at Salt River Fields is a dazzling drive-through holiday light show showcasing nearly 5 million lights and 1.2 miles of displays the location is at the Salt River Fields at Talking Stick7555 N. Pima Rd. Scottsdale, AZ 85258 and the general admission is $35 and on weekends if you want to be in a carriage ride it will be $375 and you get to have up 12 people in there the time is 6 to 9 pm.
"There so many lights and there was just so many activities that you can go do after as well," said Pilar Rodriguez
Hometown Christmas parade Located North 52nd Avenue & West Glendale Avenue 7141 N 51st Ave Glendale, AZ 85301 Date and time Sat, December 11, 2021 at 11:00 am 2:00 pm MST. and the admission is free.
all these events are family friendly most of the events that were listed customer will be able to buy things so make sure to bring your money with you to purchased anything such as hot drinks cold drinks hand warmer glowstick and apparel.