In recent (and ridiculous) news, popular Youtuber and vlogger, Zoella, has recently been criticized by both the media and fans alike for posting a selfie of herself lying in bed in a white shirt and showing off some underwear on Snapchat.
After the media outburst, Zoella tweeted directly in response to the media, "Bloody morons. Writing about my PJ's when there are SERIOUS things happening all over the world."
She also accused those who criticized her for posting the picture of sexualizing and shaming her confidence in her own body.
Zoella later turned this media overreaction into a message about self-love and body positivity, tweeting,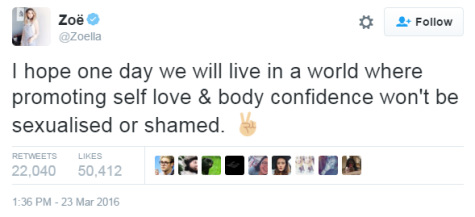 Shortly after the criticism, fans began showing their support by using the hashtag #WeStandWithZoe and posting pictures of themselves also wearing a white top and underwear. Even her boyfriend Alfie Deyes, another popular Youtuber, joined in on the support and posted his own picture wearing one of Zoella's own pair of underwear.
Clearly, mainstream media has some serious issues with women being confident in their own bodies and obsessed with the question, "was she showing a little too much?"
But the real question the media should ask is, why was it not "too much" when Justin Bieber sported only a pair of the same Calvin Klein underwear for an ad? Why was it not "too much" when Adam Levine completely exposed himself for a photo shoot?
Adam did it for cancer awareness but if a woman were to do the same thing, she would immediately be criticized and sexualized for using her body, even for such an important cause.
Even in terms of public exposure, Zoella's selfie showed minimal if anything "provocative". It's underwear. Was it really a surprise that a popular Youtuber wears underwear like everyone else?