Are You Really Safe on a School Bus?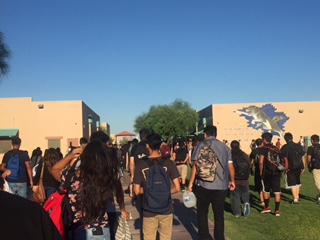 Alexus Marquez, Staff
October 6, 2016
 Are yellow school buses really safe for kids to ride on? In 2015, many yellow buses did not pass 30 percent of their inspections, showing us that children were not really safe on riding a school bus. 
"I feel it's a safety hazard" said a student at La Joya Community high school, when asked how she felt about the buses not passing 30 percent of their inspections.
Just in 2015, an exhaust leak happened to a bus for Agua Fria Union High School. An exhaust leak can be hazardous because extra heat is flowing into the engine. How many more things were happening on just that one bus?
"I was on a bus and the air conditioning was not working" said Carissa Vega, a student that attends La Joya Community high school.
Records show that in 2016, temperatures had went up to 110 degrees in just this school year. This is a big safety hazard because the kids are suppose to be able to ride a bus without having to feel as if they are walking home, also to make sure they don't get overheated.
"It's an easy transportation because my mom works in the mornings and doesn't have time to drop me off" said Vega when asked why she rides the bus to and from school.
Many kids ride the bus and they shouldn't have to feel unsafe while riding and parents should know their kids are safe while riding a school bus. Are any school officials being informed that many school buses don't have air conditioning or that there is damage and may be a safety hazard for kids? Schools should start to get buses more frequently inspected to ensure safety for the kids.