Video Game Releases: October to December
            New games come out every year, but there are some years that we are all just can't wait for. As you all know, this year had some great games such a Marvel's Spider Man,NBA 2K19, and Naruto to Boruto: Shinobi Striker. But the year isn't over yet and there are some games we just can't wait for such as Super Smash Bros: Ultimate and Red Dead Redemption 2.

Super Smash Bros was first released in Japan 1999, started with  12 characters (8 main ones and 4 unlockable ones). It grew in size and popularity over the past 19 years and everyone is hype for this new game that is coming out. This game has a bunch of characters and over 100 stages. As usual, up to eight players can play in a match. Ultimate has also added a little bit of new fighting mechanics  such as air dodges, short hops, and charge attacks can now be charged in mid-air. The downsides are if the player uses the air dodges too much, the character will slow down, therefore losing the effectiveness of the whole move. Also, chargeable final smashes can now be turned on and off. There are also a few new game plays such as Squad Strike mode, Tournament mode, and Smashdown mode. The Training Mode has a new special map specifically designed to allow players to test not only regular moves but moves that involve launching and using trajectory items or skills.
Aaliyah Aguilera, a junior at La Joya Community High School was asked if she was heard about the game Super Smash Bros: Ultimate and if she's excited for it.
"Yes, I'm a gamer and I love video games" – Said Aaliyah Aguilera (junior)
She was also asked if she had any friends who heard or were waiting for the game.
"I have at least 20 to 25 friends" – Aaliyah  (junior)
She was told some mechanics about the game and characters, she said.
"It sounds interesting but some stuff like you said that it runs out quickly, it doesn't seem that well" – Aaliyah (junior)
She was asked if she can choose one character from any game to include into this game.
"PAC MAN would be a cool one." – Said Aaliyah (junior)
Another game we are all excited about is Red Dead Redemption 2 from the industry, Rockstar Games. Coming out on October 26, this game would feature the open-world realistic graphics that Rockstar Games is known for. Judging by the map, fans have theorized that this game is a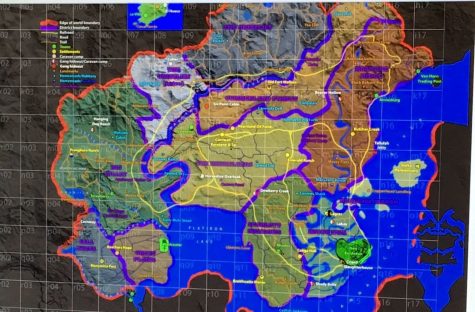 prequel to the first game due to the fact the this map is missing the railroad. There is also rumors that this game might feature multiple switchable playable characters, just like GTA. Some changes have been made to the game such as every action you do, can and probably will affect the actual storyline including your interaction with npc. Shooting mechanics are believed to be the same and to add a more realistic feel to it, Rockstar added different reload and recoil animations to each gun. Also, the fan favorite "Eagle Eye" is still included in the game. Also this is a BIG game, taking up over 100GB to download.
Davey Van Doorn, a junior at Tolleson Union High School was asked if he liked the graphics of the game.
"When I looked at the trailers and especially the gameplay trailer, I was surprised by how sharp the graphics are. If you didn't know any better, it would be like a complete animated movie." -Davey Van Doorn (junior)
He was also asked about his opinion on the mechanics.
Seeing how this game is, I would want to play this game. I like games that have a lot of diversity and freedom in them. – Davey Van Doorn (junior)
Now these are some games you don't wanna miss.