Here's who you need to know from the 2017 Camp Flog Gnaw Lineup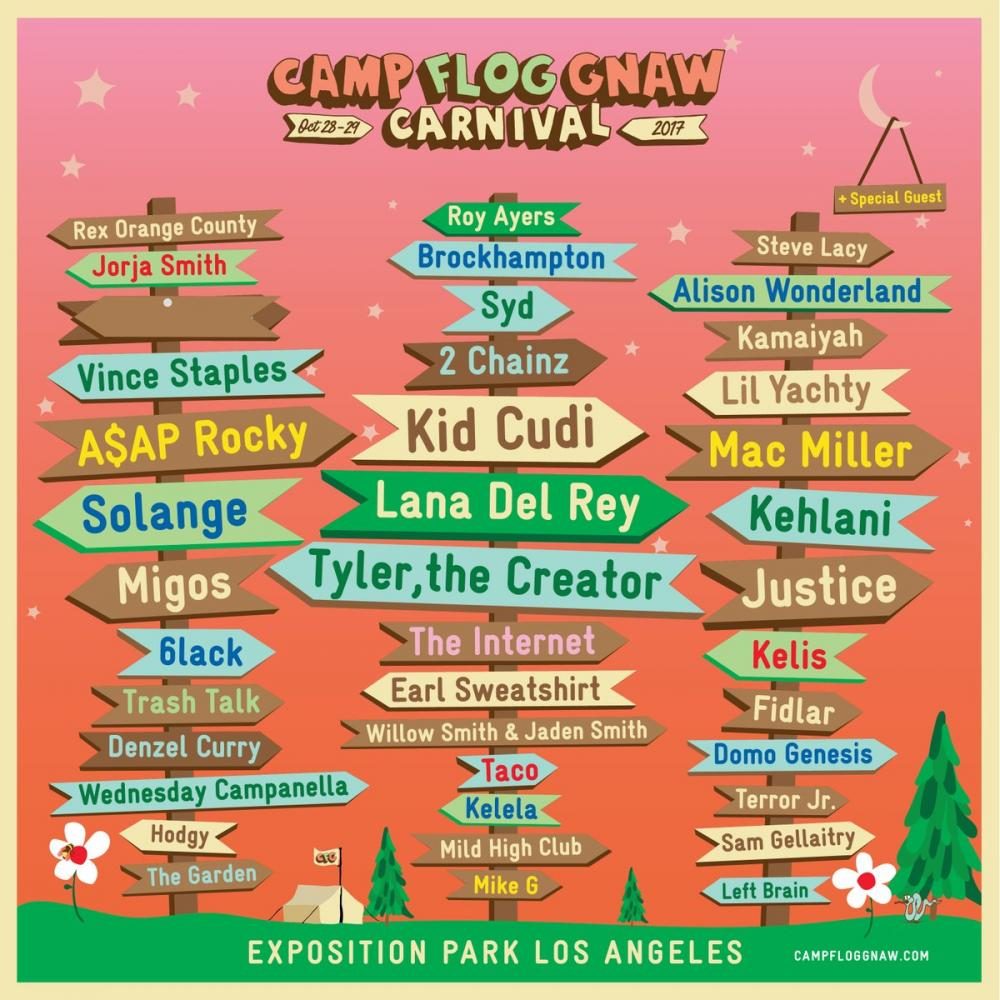 Aaron Santibanez, Staff
August 24, 2017
Camp Flog Gnaw is filled with music power houses like Migos, A$AP Rocky, "Tyler, the Creator", Lil Yachty etc… but what about the unknown upcoming artist in this year's lineup?
syd-
Syd or also known as syd tha kyd, is a RnB soul music singer/rapper coming out of Los Angeles. She creates music that has a similar flow to that of her ex band "The internet". She is a "gay" lesbian singer that talks about her ex girlfriend in most of her songs, she creates a unique flow that brings out the calmness and smoothness from her music giving the from the fact most of her songs are about breakups. Some really good songs suggested to listen to are "dontcha" and "all about me". (Of which show both her calm RnB and rapping side of her music.)
Rex Orange County-
Alex O'Connor or better known as "Rex Orange County" is a soul, jazz, Rnb singer from Surrey UK. After getting scouted by BADBADNOTGOOD and "Tyler, the Creator", his music started to really blow up recently. His best streamed song "befriend" has been getting a lot of recognition after being announced that he'd be performing at Camp Flog Gnaw. He has really good vocals of which can match up with mostly any instrument that he uses, in his song "UNO"  he uses a vast amount of instruments like the keyboard, electric guitar, bass and the violin. His music can really help with stressful nights of overloaded homework with his soothing voice and calm instrumentals in his music.
"i think he's very creative with his beats, i see him inspiring others with his lyrics" said Cami Vitela, current sophomore at La Joya.
Steve Lacy- 
Steve Lacy, Steve lacy is a god when it comes to playing the guitar. like "Syd tha kyd" he was also in "The internet". Everyone in that group have a similar flows. They create that unique "odd future" weird tone to their music.  Steve's break away song "Some" has over 1 million streams on Spotify. He has appeared on multiple songs with Tyler the creator and has even collaborated with Kali Uchis in her song "Only girl".
"The Internet is a Bootleg Odd Future that split up faster than "ofwgkta" did… but overall they're still really good." Said Benito Gallegos, current freshman attending La Joya.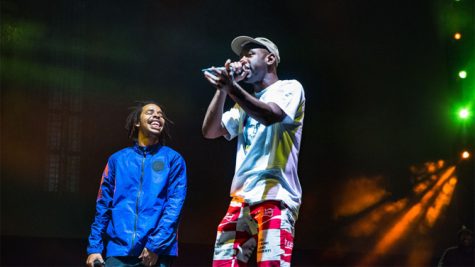 photo by: WES AND ALEX/SHUTTERSTOCK
Tyler the Creator and Earl Sweatshirt
at Camp Flog Gnaw
"I believe we can all relate to these artists, they're lyrics can really speak to us in a way." – Vanessa Alguilera on what she feels about the artist at the carnival.
With all these upcoming "underground" artist performing at Camp Flog Gnaw will create a form of calmness at the carnival and help introduce people to new genres of music they may have not heard of.  For the most part the student body that will be attending the carnival can help them expand there walls with personal music interest and maybe even socializing with others attending the carnival giving the fact that they're there for one similar reason, music.