Stressing out? Here to Help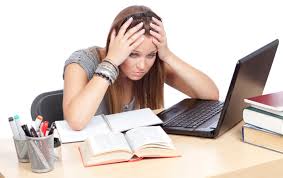 Yuliza Alvarez, Staff
March 29, 2018
As the school year comes to an end, you are starting to get stressed. Teachers may be handing projects to end the year or prepping for final exams or you are simply trying to get your grades up before it ends. But heres some tips to keep you calm.
"Adopting the right attitude can convert a negative attitude into a positive one." said Edward Garcia
Indulge in Physical Activity- Try going for runs to gets some fresh air to help your brain process material better.
Get More Sleep- Try to get at least 8 hours of sleep every night. A lack of sleep is a significant cause of stress. Unfortunately though, stress also interrupts our sleep as thoughts keep whirling through our heads, stopping us from relaxing enough to fall asleep.
Try Relaxation Techniques- Meditation or relaxin music can release some of the stress. There are many tried and tested ways to reduce stress so try a few and see what works best for you.
Talk to Someone- A lot of people are in the same situation as you. You aren't alone. Just talking to someone about how you feel can be helpful. Talking can work by either distracting you from your stressful thoughts or releasing some of the built-up tension by discussing it.
Take Control-At times, we all feel overburdened by our 'To Do' list and this is a common cause of stress. Accept that you can not do everything at once and start to prioritize. Don't let the stress consume you. Take back the control.
Manage Your Time- Time management can take most of your stress off. Managing your time and going to sleep early is a great way to start.
"My key to dealing with stress is simple, just stay cool and stay focused." said Juan Santos
Now that you have some tips take them, and stop stressing. Prioritize your time, get sleep, talk to someone to help you relax.
"The school year is almost over, hang in there!" said Alejandra Santos