Teens Like YOU…Except They're NOT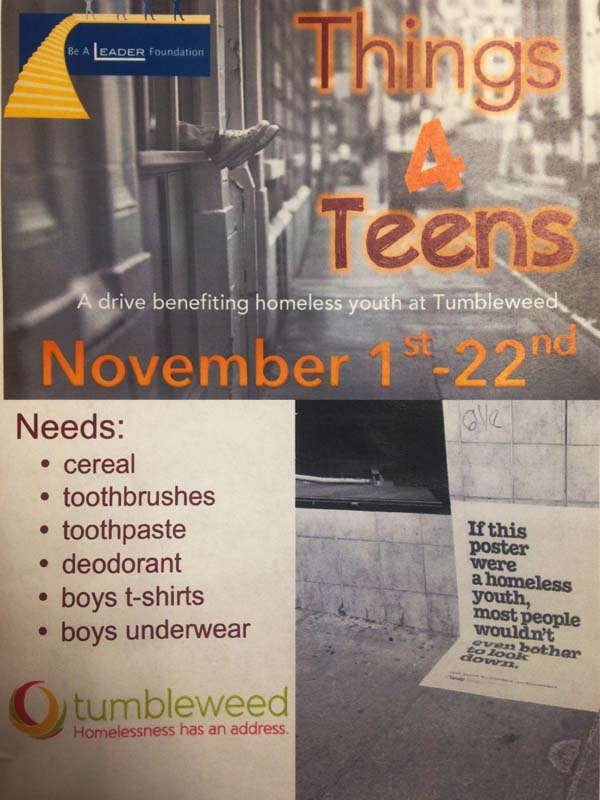 Hey Lobos! Are you looking for a way to get involved with your community? Be A Leader Club, led by Mr. West, is participating in a drive that can benefit teens in need, and you can help!
Tumbleweed is a homeless shelter dedicated to giving youth teens (ages 13-19) a place where they can feel safe and at home while also giving them an opportunity to practice hygiene, eat, and even be clothed. Their motto is, "Homelessness has an address".
Tumbleweed is unique from other homeless shelters as it has a set-up similar to an apartment in order to further teens' at-home feeling while there.
Although there are different branches to this organization and they contain separate shelters for their girls and boys, this drive is dedicated to teen boys,as they are in dire need of supplies.
The number of homeless teens in Phoenix increases by the month and this shelter in particular is in need of the items listed below:
Cereal
Toothbrushes
Deodorant
Boys t-shirts
Boys underwear
If you would like to help out, bring any of the above items (new and still packaged) to Mr. West's room (Room 1122) by Nov. 22nd. Any and all donations will be greatly appreciated.
Tumbleweed is located at 3707 N. 7th Street, Suite 305, Phoenix, AZ 85014. For more information, please call one of the below phone numbers:
24-hour crisis hotline: 602.841.5799
Main Phone: 602.271.9904
Toll free number: 1.866.SAFE703