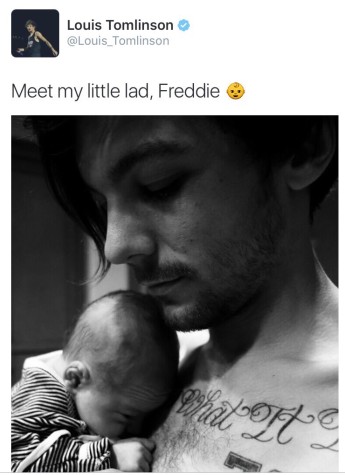 On Jan. 22, 2016 Freddie Reign Tomlinson was brought into the world. It wasn't until the next day that Tommo himself confirmed the birth of his baby boy. The 24 year old star took to Twitter to express his happiness.
Rumors of Tomlinson becoming a father surrounded the internet in 2015. It resulted from a short fling he had with Briana Jungwirth. It didn't take much time for Directioners to express their thoughts on the topic. Social media became chaotic after the news was confirmed to be true. Most fans were devastated but the best thing was to congratulate Louis on his baby. On Wednesday, the new dad tweeted about his new born son, showing the world a precious picture of Freddie Reign.
Although Louis and Briana are no longer anything he still takes time to visit his baby boy. Tomlinson will be sharing custody of Freddie being that he and Briana were never official.
Tommo will be a fantastic dad to his new born. This baby has a big future with such a great dad like Louis. The best of wishes goes out to him and Freddie.