Where will Giancarlo Stanton go to?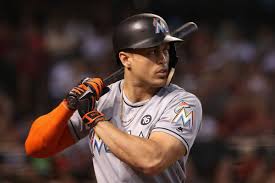 Hang on for a minute...we're trying to find some more stories you might like.
As you may know the biggest question of this offseason is where will Giancarlo Stanton get traded to. Giancarlo is coming off a tremendous season with 59 home runs and 132 rbi's and all this work won him the NL MVP. There are many teams that have showed interest in Stanton but the teams he said he would want to play for are the Boston red sox and the Los Angeles Dodgers.  There is  still 12 years remaining on his contract ,the team he gets traded to ,he will have to wave his  trade clause.
At the end of the day whoever gets the slugger would have to give up a lot even possibly a top prospect because the Miami Marlins are gonna want a lot in return. In my opinion i think he would be worth to get. A former MLB all star Barry Bonds had said "this is the strongest man alive" which means he knows he's built to win. I would like to see him in a red sox uniform just because there built to win a championship now and they just need that last piece of the puzzle to take them all the way just because they keep falling short. Stanton, who just turned 27 had said "At the end of the day, i just wanna win" and that showing you he wants to win now and he would wave his trade clause to be on a team where he could easily thrive on it. A ESPN reporter had said " If you want to win now, you give up what you want."