Chocolate Covered Ghost Strawberries: A Hauntingly Delicious Treat!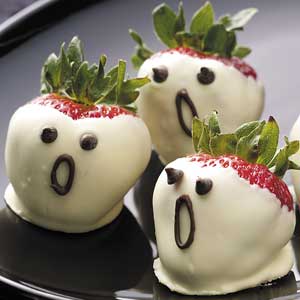 Hang on for a minute...we're trying to find some more stories you might like.
Chocolate covered strawberries are very famous because they are so easy to make! These chocolate covered ghost strawberries are the easiest and quickest thing to make on Halloween. Once you make them you can not stop eating them.
Anyone can make these delicious strawberries, plus who doesn't like ghost looking strawberries?
Serving: 24 chocolate covered ghost strawberries
Ingredients:
24 washed, and completely dried strawberries
8 ounce of white chocolate or white chocolate chips
¼ cup of semi-sweet chocolate chips
Directions:
Line wax paper on top of a baking sheet.
Melt the white chocolate in microwaveable bowl and stir every 30 seconds until the chocolate is completely melted and liquidity
Hold a strawberry by the stem and dip it in the white chocolate until it is almost entirely covered in chocolate.
Once it is almost entirely covered pull the strawberry out of the chocolate and hold it over the bowl and let the excess drip off, then place it on the baking sheet.
Repeat steps 3-4 until you have covered all the strawberries with chocolate and then refrigerate them for 15 minutes to let the chocolate harden.
While they are cooling, melt the chocolate chips and place them in a plastic bag and tie it.
Take the strawberries out of the refrigerator after 15 minutes
Cut a hole on the corner of the bag with the melted chocolate and create the eyes and mouth of the ghost.
After you have finished you are ready to eat and enjoy these on a lovely Halloween evening!