The All Time Adrenaline Rush
The feeling of adrenaline is quite common when you are feeling over excited. The blood in your veins rushing up and down your body and your heart beating at five thousand miles an hour.
Imagine your favorite artist right in front of your face and think about how much they mean to you. Everyone has that one band or artist that they listen to when they're feeling sad and they feel a bit better.
What would you do if they were staring right at you? You freeze, you thank them for all those sad days they helped you get over, and with one look they give you, and you know everything will be okay.
On October 20th 2015, I found myself doing exactly that. It was an early July morning when I got a text from my best friend saying she has got us tickets to see our favorite band. When you go to a concert that is general admission you pray that you get to stand in the barricade.
We got to the Mesa Amphitheatre and I found myself resting my arms comfortably on the barricade. There was 4 bands in total playing; One Ok Rock, Neck Deep, Sleeping With Sirens, and All Time Low. First up was One Ok Rock and they were really good.
I never considered myself "lucky" until Sam Bowden of Neck Deep handed me his guitar pick. Necks Deep are amazing performers and so are Sleeping With Sirens. Funny story, I caught my best friend Nick Martin's (guitarist from Sleeping With Sirens) guitar pick without knowing I did.
She was smiling for the rest of the night because I did that. Next thing you know, All Time Low is on stage. How does one function correctly when Zack Merrick, bassist of All Time Low, is throwing glances at you?
They played an amazing set, as always. They played their two most helpful songs, Therapy and Missing You. I found myself shedding some tears due to the lyrics of those two songs. They lifted the mood again by Jack Barakat, guitarist, and Alex Gaskarth, lead vocalist and guitarist, had a conversation about eggplants.
During the last three songs of their set Alex Gaskarth told the crowd to turn to the person next to us and ask them nicely if they were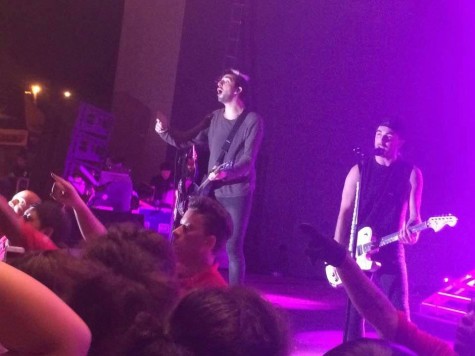 willing to put one another on their shoulders. I ended up on someone's shoulders and when Jack Barakat interacted with me, my whole world stopped.
No feeling is better than when your favorite band or artist gives you a small gesture. I felt so happy up there that I didn't realize that "oh, I'm on some random stranger's shoulders".
The show ended with Alex Gaskarth coming to the crowd and shoving the microphone into my face while confetti stuck to my skin. I came home and laid on my bed thinking of the memories of that night and how happy I was for seeing the people that make those sad days a little easier.
I can never thank them enough for one of the best nights of my life. As for the confetti, it appears everywhere and I cannot get rid of it.