An Album of Black Pride and the Beauty of Being Black.
Solange Knowles: A Seat at the Table
Hang on for a minute...we're trying to find some more stories you might like.
In less than two weeks, Solange Knowles released her third full length album. Since then, the album has hit number 1 on the Billboard Top 200 albums.
Since 2013, the album has been in the works, in a interview with Rolling Stones Solange describes A Seat at the Table as "a project on identity, empowerment, independence, grief and healing."
The album is about Black survival in 2016. a combination of straight talk and refracted R&B. the 21- track album details the a journey of self-exploration and black pride.
The album features her parents, artists Kelly Rowland and Lil Wayne. The album also includes interludes that are about her parents Matthew Knowles and Tina Lawson. They tell their story and their struggles in her album which makes it very powerful. The Interlude with her mother is about the "White Lives Matter" rhetoric, and also includes her belief of Black Lives Matter.
The Interlude with her father Matthew Knowles talks about a school in the South, and what the education system was like during segregation.
The album not only gives off such soft tone singing from Solange, but it also tells a background of what being black is truly about, and the beauty of being black. It's a story within sining.
Solange has a supportive family. Her sister Beyonce posted on Instagram that her album was a work of art, and she couldn't be more proud of her sister. Her mother als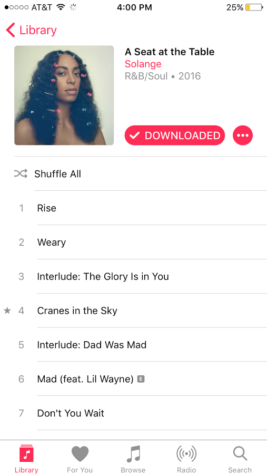 o posted on Instagram saying
" I'm so happy to see that the world can finally see what I've seen since you were three years old". Her mother is so proud of her and what she is capable of.
If you haven't heard her album, do. It's on Spotify, and if you are a member of  Apple music, go, what are you waiting for!