The end of the school year has finally come! This year has been challenging, but also one to remember. These buttery soft pretzels are the perfect way to reward yourself after a year of hard work.
Start by gathering the ingredients for the dough: 2 ½ cups of sifted bread flour, 1 teaspoon of salt, 1 teaspoon of sugar, 2 ¼ teaspoons of yeast, and 1 cup of warm water.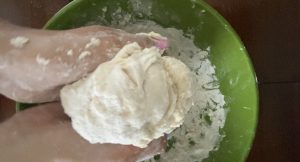 To make the dough, combine the sifted bread flour, salt, sugar, yeast, and warm water in a large bowl. Knead the dough together for about 4 minutes, or until its elastic, soft, and smooth. Set aside to rise for 30 minutes.
While the dough is rising, rather the ingredients for the topping: 1 cup of boiling water, 2 tablespoons of baking soda, salt, three tablespoons of melted butter.
In a small bowl, whisk together the boiling water and baking soda. Transfer the mixture into a 9-inch baking pan.
Once the dough has finished rising, transfer it onto a clean work surface. Cut the dough into 8 equal pieces and allow to rest uncovered for 5 minutes.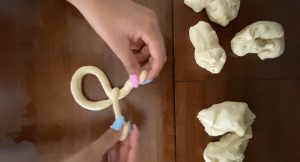 After the five minutes, roll each piece into a 15-inch rope. To form a pretzel shape by crossing the two sides of the rope over each other, twisting them together, and placing them down on opposite sides.
Working with four at a time, place the pretzels in the baking soda mixture and allow them to marinate for 2 minutes. Be sure to spoon the mixture over the pretzels while they are marinating.
Transfer the pretzels to a baking sheet,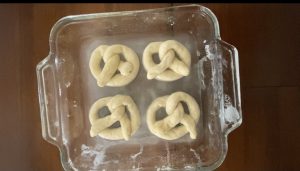 sprinkle salt over them, and allow them to rest for 10 minutes. Bake for 9 minutes at 475 degrees, or until golden brown.
Brush the melted butter over the finished pretzels and enjoy.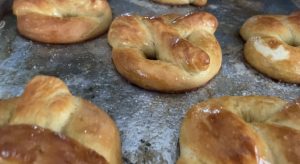 Tips: My first tip is to be sure to clean your workspace. Dough will pick up everything it touches, so be sure to thoroughly clean the workspace before using it. My next tip is to be gentle when transferring the pretzels from the baking soda mixture to the baking sheet. The dough becomes very flimsy after being soaked in the mixture, and when handles roughly, they will fall apart. My last tip is to use a coarse salt as opposed to a regular salt. It contains much more flavor, and the large pieces make the pretzel more authentic.