Top 10 Songs of May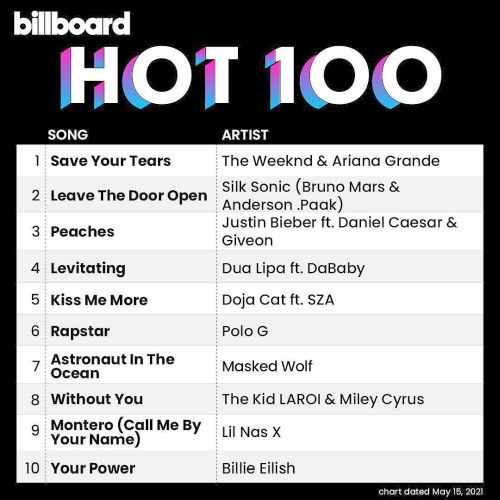 Arizona- Hey Lobos It's Daniel Suarez and I'm going to be going over the top 10 songs on Billboard's Hot 100 as of May 15th, 2021.
1- "Save Your Tears" By The Weeknd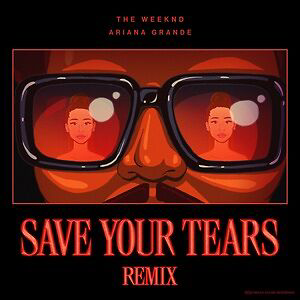 2- "Leave The Door Open" By Bruno Mars & Anderson .Paak
3- "Peaches" By Justin Bieber
4- "Levitating" By Dua Lipa Ft. DaBaby
5- "Save Your Tears" By The Weeknd
6- "RAPSTAR" By Polo G
7- "Astronaut In The Ocean" By Masked Wolf
8- "Without You" By The Kid Laroi & Miley Cyrus
9- "Montero" By Lil Nas X
10- "Your Power" By Billie Eilish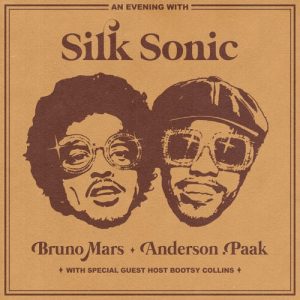 In This List we Have The Weeknd and Ariana Grande Topping the chart with The Weeknd's Hit song "Save Your Tears" from his 2020 album "After Hours" Which was already a hit and with Ariana Grande on the remix of the song it just opens doors for more people to listen to the song.
Next Up Is "Leave The Door Open" By Bruno Mars & Andserson .Paak which released as a single early 2021. Bruno is very well known in the music scene and has been known for dropping hit songs like "24k Magic", "Wake Up In The Sky" with Gucci Mane, and "Uptown Funk". Anderson on the other hand doesn't get much recognition for his work so this is great not only for Bruno but Anderson as well as it will get people to recognize his name and check out some of his other work.
At the three spot is "Peaches" By Justin Bieber which is also another very recognizable name as he's been in the Music industry since 2010 when he had his first hit song "Baby". It seems Like Justin has not slowed down since then as he has had multiple hit songs throughout his music career and has collabed with multiple artist even outside of his genre like Travis Scott. I would expect more Hit songs to come from Justin as it seems as if he has songs charting the Top 100 whenever he releases new music
May's list includes what some people might call the future of the music scene with some of these young artist's like Billie Eilish, The Kid Laroi, Polo G, and Lil Nas X all under the age of 22 and some of these artist's have even had song's from different projects on this list in the top three prior to May's list.
Leave a Comment