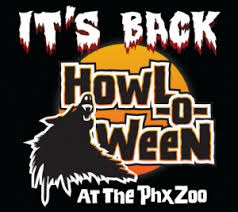 Are you looking to do something this October for the Halloween season? Do you enjoy Halloween décor and scare-tastic events? What about the zoo? Well, add all that together and you get Howl-O-Ween at the Phoenix Zoo!
This October, the Phoenix Zoo is throwing their annual Howl-O-Ween event on the 23rd and 24th. If you come, then you will be thrilled with all the Halloween novelties and actives that will be going on! Watch out though, don't get caught by the Headless Horseman. He will be riding around looking for victims to seek vengeance upon…
If you're up for freaky activities, Phoenix Zoo will be hosting "Phoenix Arizona Paranormal Society" where you can learn about paranormal activities that have happened in Arizona and even listen to real EVP (electronic voice phenomena) recordings.
You can even go through the Dismembered Hearts maze. This maze is full of evil dolls waiting for you to make a wrong turn to snatch you up and make you disappear.
Scary isn't for everyone and that's okay because there are some activities for those who aren't all about thrill rides. There will be magic shows, the "scare"-ousel, and even a pumpkin pathway where you walk around a pathway full of jack-o-lanterns. Kids can even get to go on a trick or treat trail. Who doesn't love candy?
Price isn't a big deal because if you're a member, you get into the zoo for $10, but if you aren't a member it is only $12 per person.
Remember, the activities will be held in the evening hours between 6:30 pm-10:00 pm.
See you there!