True Life of a Krunchkin: Oct. 29, 2015
The life of Kimberly Rodriguez on crutches
Hang on for a minute...we're trying to find some more stories you might like.
October 29, 2015
It's finally here, The Cancer Walk!! We've been preparing for the event for the longest, and even with the rain killing the whole walking on the track part we still had in, just in the gym now. It turned out really good. I low-key thought we weren't going to have anybody walk because of the whole rainstorm situation, but we did ended up getting participants. We were freaking out about on how we were going to take a picture of the human ribbon, but like always we found a solution to the problem and just in time to. Today in general was a huge roller coaster. I woke up in the worst mood ever, and the day was just filled with mixed emotions. I am just happy that the cancer walk went good. Even with everything that happened throughout the day at school. Once I got home my sister decided to get into an argument with me for not cleaning, which makes no sense. How does she expect me to clean the whole house when the doctor clearly said I had to stay off my ankle, then she has the nerve to call me selfish for asking my mom to do me a favor while she's over here having her do all this crap for her. I seriously almost beat her, I love my sister but man she's just on a whole other level sometimes. Thank the lord we have church on Thursdays cause I needed to get away from her. Once we got to church I saw my Pastor and I was so happy to see her I missed her while she was away! But I forgot she hasn't seen me with the crutches so when she saw me her face was priceless. She's seriously so cute. After all that the teenagers went to their class for their bible study, and today we talked about Halloween. Personally I in general do not like Halloween, it freaks me out ever since I was a little girl. Towards the end of the lesson I was just even more scared about Halloween. Thanks Mara! Once we got dismissed the Pastor came up to the girls and me and asked us if we'd like to have a sleepover with her next weekend. I agreed to go only if we didn't play Monopoly. (Inside joke) After we set up the plans and everything we started talking about going to Winter Fest, since I wasn't able to go last year. *sad face* we all agreed on saving up, and telling our youth leader that we wanted to go. I'm super excited especially because it's in Santa Ana, California.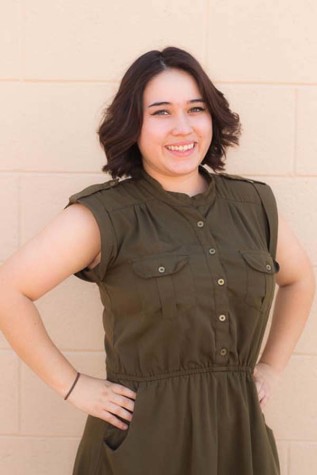 Kimberly Rodriguez, Editor in Chief Yearbook/Staff/ Anchor
Kimberly Rodriguez is a young, sweet, and energetic girl who is a senior at La Joya Community High School. Some of her hobbies include reading books, and...