Dear Lobo
Produced by Karina Quintana and Lucero Ramirez
Senior year is the last chapter to the beginning of a new era in your life. Graduation and the idea of graduating is intimidating, especially when you consider life after graduation and the uncertainty of the new things to come.
No one knows what to expect and each person has their own point of view based on their experiences. Some may feel ready for this change, others may dread it.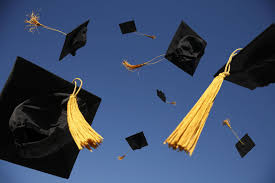 You're probably wondering…
What if my career doesn't work out?
What if I change my mind on what I want to do and waste a lot of money?
What if I am just wasting time?
What if I don't enjoy my career as I thought I would?
What if college isn't for me?
How will I survive out there on my own?
The best way to feel more secure in the fact that everything can turn out okay, is advice from someone who is going through what you could be dreading right now. Specifically how they had the same fears and concerns
Celia Kramer, from the Class of 2016, gives advice to this year's graduating Class of 2017. Not only is this advice for this year's graduating Lobos, but as well as the many more Lobos that will be graduating in the near future.
"Dear Lobo,
I am a freshman at Northern Arizona University studying social work.
In high school, I struggled with putting my own needs first, I focused too much on what my friends thought and what they wanted.
My post graduation fears were not being able to navigate campus and not being able to find a job, but I have succeeded in both of those aspects.
Since graduating, I have put my own self first and I really bloomed confidence wise. I learned to see the beauty in everything around me and appreciate the things I have, rather than dwelling on what I don't.
If I could tell my senior self anything, it'd be to always do what is best for your future, friends will come and go but you will still have yourself to deal with."
Thank you Celia for your piece of wisdom. Class of 2017 appreciates it.