Do You Have a Job or Do You Have a Passion?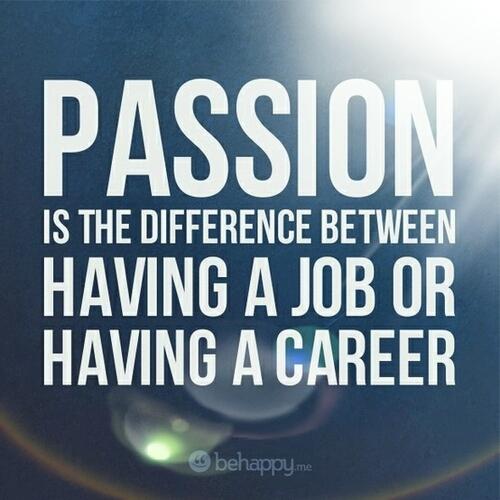 Hang on for a minute...we're trying to find some more stories you might like.
Most high school students going into high school or coming out of high school in today's age never know what they want to be or what they want to do. This is what usually brings students down because they get out of high school confused and wondering what step to take next. The students have nothing to strive for and nothing to achieve. They don't have a passion.
A good amount of students struggle finding what they are passionate about to begin with. This is a problem due to the fact that having a passion and having the ability to go through with that passion is what makes the difference between having a job and having a joy to live with.
When asked if he would ever change his career, and architect named Jesus Diaz answered "No because I made a career out of it and I feel good." It's important to choose a career that makes you happy.
In a speech by Scott Dinsmore, he states that when finding what you are passionate about you should think about "What are the things that we wake loving to do no matter what?"If you can think of something you can safely say "I wouldn't even need to get paid to do it," then that's something that can become your reason to keep going and work hard.
When told he couldn't do his career, a worker at Orcutt Winslow answered with "It's an attack against my skills and my career." You should be able to love your career so much it makes you fired up when someone says you can't.
Most people have passions they don't realize can be turned into a career. The word used is impossible. When asked how many things do you think you can't do or that are impossible, Diaz said "About 3."
However, it shouldn't matter if it's said to be impossible or possible as long as you love it, you should follow it. Your passion and what you can do is what separates you from the rest of the world.
Neil Gailman, a now famous writer, said it best in his Commencement University of Arts speech "People who know what they are doing know the rules and they know what is possible and what is impossible, you do not and you should not. The rules on what is possible and impossible in the arts were made by people who have not tested the balance of the possible by going beyond them."
As students, children, and young adults, your mind is as powerful as you say it to be and more.
"Everything was thought to be impossible until someone did it," said Scott Dinsmore.
The power of a child's mind is not to think of what could realistically happen, but instead to think about what thy could make happen. Make sure you have a passion and make sure you have a dream you will achieve.
*(Names used in this article have been changed.)