TNT ratings and courtside hype are high, which only means one thing: basketball season is here. Opening week for the NBA has been one hell of ride; from twisted ankles, superstar rookies to big bets for this season's trades.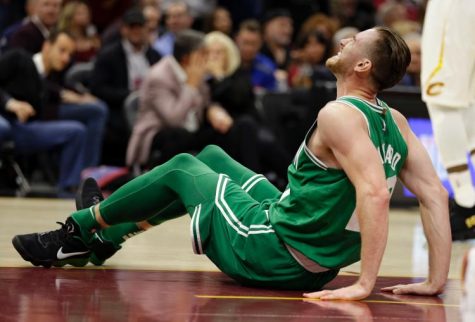 The opening games have set the tone for the rest of the 2017-2018 NBA season: hyped & hopeful. After all trades, hype, new signings and excitement, Wednesday night October 18th broughts us a Cleveland Cavaliers' 102-99 win over the Boston Celtics and a Houston Rockets' tight 122-121 win over the Golden State Warriors. Great conversation over Kyrie Irving's trade from the Cleveland Cavaliers to the Boston Celtics brought a lot of hype for Wednesday night's game. As much as fans hate to see Irving play against his previous close teammates, they are also curious to how well he will play on a new team with new faces. Although attention over Irving in Celtic Green quickly dwindled when Gordon Hayward attempts an alley-oop and violently lands on his ankle, twisting it almost all the way around. The graphic injury was full captured and player, coaches & fans try to contain their shock as Hayward was carried out of the Quicken Loans Arena. Many consider Hayward's trade to the Celtics as a key for their success this season, although his recovery time until he gets back on the court remain unknown.
And as for the Golden State Warriors vs Houston Rockets, the one point leaves Warriors fans extremely devastated but Rockets fans extremely hopeful for this upcoming season. Newly traded Chris Paul makes his debut in red and white as the Rockets take down the 2016-2017 NBA Champions. Many saw great chemistry between James Harden and Chris Paul, leaving a lot of hope for the Rockets to make it to playoffs.
The following night results in a Toronto Raptor's win over the Chicago Bulls in a 117-100 win and the New York Knicks take a rough beating by the Oklahoma City Thunder with a 105-84 final score. Both LA teams also went head to head, 108-92 as the LA Clippers take the victory over the LA Lakers.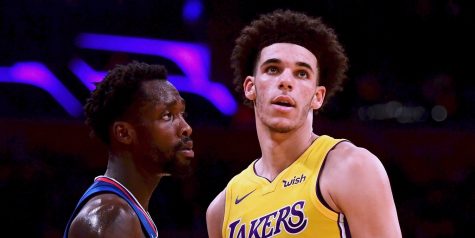 Friday night is opened with long awaited and hyped rookie Lonzo Ball for the Los Angeles Lakers. Ball is a hair away from making NBA history as he was 1 assist away from being the youngest NBA player to have ever earned a triple double. Ball previously stirred some on-court tention with Patrick Beverley of the  Los Angeles Clippers the previous night. Many criticized Ball's debut to the league including Beverley, "I just had to set the tone. I told him that after the game, due to all the riffraff his dad brings he's going to get a lot of people coming after him." Critics along with fans are eager to see if Ball can live up to to the hype his father, LaVar Ball puts him out to me; many see this as either as a large target on his back or an intimidation tactic.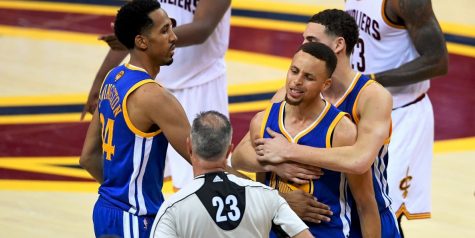 Saturday night set one for the books as GSW superstars Stephen Curry and Kevin Durant get ejected from that game against the Memphis Grizzlies. During the final minute of the game, Curry attempts a fast layup taking some upper body contact but no foul call. Out of extreme frustration, he throws his mouthpiece at the referee. Although Curry comes to ESPN for an official statement about his rejection, "I didn't throw my mouthpiece at the ref. I got better aim than that. I threw it out of frustration." Shortly after, Durant went to speak to the same referee in defense for Curry although it only resulted in him getting ejected as well. He soon then sticks out his left ring finger and repeatedly points with his right hand to it, in reference to his 2016-2017 NBA Championship ring. At an immediate first glance, many mistook that he was giving the referee the middle finger. The game is then finalized at 111-101 in favor to the Memphis Grizzlies.
Also a head turning surprise, Cleveland Cavaliers take the defeat against the Orlando Magic at 93-114. Newly traded Derrick Rose and Isaiah Thomas remain injured as Cavs fans wish them a speedy recovery.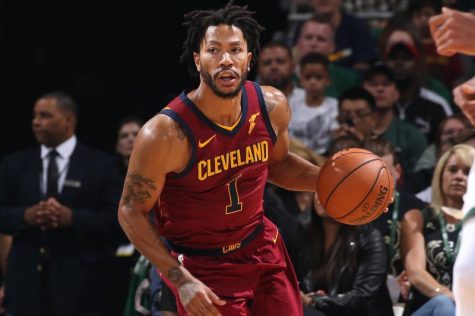 And finally, Sunday night NBA fans are shocked with a nearly impossible miracle shot. Minnesota Timberwolves take the victory over the Oklahoma City Thunder as Andrew Wiggins nails a three-pointer buzzer beater just inside the half-court line. Carmelo Anthony of the OKC Thunder makes 3 pointer with just about 5 seconds left on the clock putting OKC in the lead by 1 point but Wiggins was quick to nullify that with a swift basket finalizing the score at 115-113.
This week for the NBA has been the greatest thriller for the month of October as basketball fans are extremely eager to see what this season holds for them.