Lobo Actors "Breaking a Leg"
Are you someone who stays at home bored-to-death? Maybe you want to take a break from school work? Well, we've got just the thing for you! La Joya offers a variety of after-school programs that anyone can join at anytime! More specifically, La Joya Theatre!
Ms. Ludlow, La Joya's drama teacher, is just about ready to launch her upcoming play, "A Chance", September 28th, 29th, and 30th! This romantic-comedy is a quirky piece for everyone! There is a so much diversity within this small, but meaningful, play that you will surely find yourself relating to it.
Ludlow, cast, and crew, are putting in extra hours to perfect this rom-com. In an interview with the director herself stated that, "right now, my students [are my motivation]. I feel like theatre can heal people in ways other things can't heal them."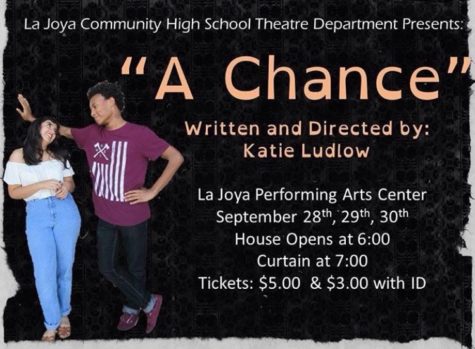 "More shows [are] more opportunities for students", to have a chance to express themselves in a safe, secure, environment. Which goes hand-in-hand with finding a place to with your unique personality!
Dulce Corona, who plays Adria, has been with La Joya's theatre for about 2 years. She loves how theater challenges her, and takes her out of her comfort zone, "It's fun, and it changed who I am. I'm more open and outgoing because of theatre, so I hope to discover myself the longer I act."
Perhaps you have seen her in several other workings like "Almost, Maine", and "Footloose: The Musical"! You may even get a chance to see her in the upcoming fall showcase and spring musical!
Make sure to check out, "A Chance", September 28th, 29th, and 30th! Entrance is $3 with student I.D., and $5 general admission. Doors open at 6pm, and show starts at 7pm! And to keep your eyes, and ears peeled for announcements on, "Half Stick of Gum" AND "The Addams Family: Musical"!