Students at La Joya witnessed protests that three unidentified students took, during the first lunch of Friday, May 17th. Their signs had  statements from, "What makes us human?" to "#ProLife #All Lives Matter (Even the unborn!!)".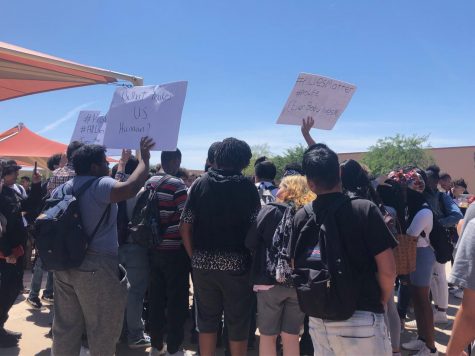 Angelica Veloz was present at the protest and had this to say,
"[Tinker v. Des Moines Independent Community School District] supreme court case where it says you have a lot of things that you can't wear, like guns on your shirt. How [can] you [make] posters that go against that [topic?] Their discriminating against a certain group and saying that they're not allowed to do this "because it's not right", and it is right. Women do have rights to their bodies, men have nothing to do with it. There is a right and there is an extent that they can go and having those posters [is too far] … Women have rights too, and for you to put up a sign, walk around and like flaunt it in women and they are getting it taken away? It's not right," 
On Friday afternoon, there was an abundance of tension between La Joya students, whether or not they were for or against the cause. Now that students have had the weekend to not only relax and assess the situation; now those who voices were not heard, brought posters of their own.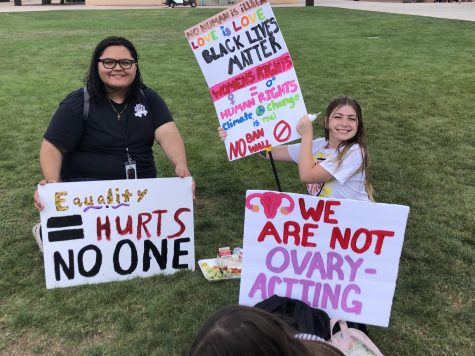 Sage Kerlin, on the right, said,
"I want people to know that La Joya has its bad times but … there is a lot of people that love and care for each other and the love is so much stronger than the hate honestly. And I hope that people know that they are welcomed here no matter who they are, what they are, or what they do," 
On the official Arizona Adolescent Reproductive Health Facts website, it is estimated that the rate of teen births (per 1,000 females ages 15-19) in 2016 was 23.6 pregnancies in Arizona and out of the United States, 20.3. Those who were 15-17 years of age, there was 10.4 in Arizona and 8.8 out of the United States. Those who were 18-19 had 43.5 while the United States had 37.5 total pregnancies. Out of all the information, Arizona had a higher rate that the United States had, as a whole.
Arizona Adolescent Reproductive Health Facts said,
"Arizona ranked 18 out of 51 (50 states plus the District of Columbia) an on final 2016 teen birth rates among females ages 15-19 (with 1 representing the highest rate, and 51 representing the lowest rate)," 
Women should be the ones who speak up about the laws about their bodies. It should not be boys who want publicity, who decide. It should not be egotistical politicians and office officials who are using abortion as a promise to the people. The only ones who's voice should count is women. There are men who have the same beliefs as women but their voices should not be heard over women.