Valentine's day is right around the corner. Red velvet cupcakes are the perfect treat to celebrate the holiday of love. This recipe makes soft and moist cupcakes, balanced with a sweet cream cheese frosting.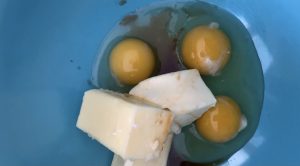 Ingredients for the cupcakes:
1 2/3 cups of all-purpose flour
¾ cup of buttermilk
2 teaspoons of cocoa powder
1 cup of granulated sugar
¼ teaspoon of baking soda
1 teaspoon of baking powder
¼ teaspoon of salt
¾ cups of unsalted butter
3 eggs
2 teaspoons of vanilla extract
red food coloring
Instructions for Cupcakes:
In a large bowl, sift together the flour, cocoa powder, sugar, baking powder, baking soda, and give it a whisk.

This is what all of the dry ingredients look like before being sifted.

In a separate bowl, mix the butter, eggs, vanilla extract, buttermilk, food coloring, and mix until combined.
Add the dry ingredients into the wet ingredients, adding a little at a time.
Once combined, scoop 1/3 cup of batter into each cupcake paper.

This what the combination of the dry and wet ingredients should look like. Note, I tried to mix by batter by hand, resulting in clumps.

Bake at 350 degrees Fahrenheit for 15-20 minutes.
When the time goes off, take the cupcakes out of the oven, stick a toothpick in the center of one, and if the toothpick comes out clean, the cupcakes are done.
 Set aside to cool.

Side note, I added too little of red food coloring resulting in my cupcakes looking pink.
Ingredients for cream cheese frosting:
3 sticks of unsalted butter
2 1/2 cups of powdered sugar
16 ounces of cream cheese
1 1/2 teaspoon of vanilla extract
pinch of salt.
Instructions for frosting:
Take out the butter and cream cheese to let soften.

It is essential to sift the powdered sugar. By sifting, no lumps will occur. This will make a nice and smooth frosting.

Once the butter if soften, beat it in a large bowl.
In a separate bowl, sift the powdered sugar and set that aside.
Add the softened cream cheese, vanilla extract, and salt into the butter and beat until combined.
Gradually add the powdered sugar into the butter and cream cheese mixture.
Taste the frosting, if not sweet enough, add another tablespoon of powdered sugar. This is optional.
Transfer the frosting into a piping bag and frost the cupcakes.
Tips: I recommend using either a strong red food coloring or a generous amount of food dye. I added too little, and my cupcakes came out pink. I also would recommend using a stand or hand mixer to mix the batter. I tried doing it by hand, and there were clumps of butter. When I pulled out the hand mixer, my batter became fluffy and well incorporated.