True Life of a Krunchkin: Oct. 28, 2015
The life of Kimberly Rodriguez on crutches
Hang on for a minute...we're trying to find some more stories you might like.
October 28, 2015
Today is Trunk or Treat. I really wish computers had emoji's, I feel it would add a little "uumf" to this whole thing. But whatever, that's not my problem. Well during school I got stuck with my crutches, but I am getting the hang of it now thanks to Ms. Langrebe for adjusting them for me and showing me how to use them. Cause man seriously I was struggling before and it really doesn't help that my bag weighs about as much as I do. Nonetheless I got through the day, but once I entered yearbook man it was hectic! We were just all over the place trying to get ready for Trunk or Treat. Eaton was sewing Alexis' costume, half of the staff was in the studio making decorations while the other half was cutting ribbons for the Cancer Walk tomorrow. It was just cray, but for us it's pretty normal tbh. Then next thing you know the bell rings, like seriously?! Yearbook lasted for about two minutes. So now a majority of the staff leaves to get ready for tonight, then about two people leave to get everyone else food while we stay and try and get everything done and ready so we can decorate the trunk. After the girls get back with the tacos, we eat quickly and head out to the parking lot. Thankfully my costume included a wheel chair because I was not trying to be in my crutches during Trunk or Treat, I would've given up. As soon as I arrived I started handing out candy, and well apparently I was being mean to the kids. Which I don't see how because I was kidding, but whatever. This is why I can't and won't have kids. I am completely okay with just having nieces and nephews, and one dog. After all my candy was finished people just starting pushing me around everywhere, and it was fun seeing all the trunks. Once trunk or treat ended we went back to the yearbook room to get our bags and stuff, let me just warn you now. Never go in to the yearbook room after dark, I'm being so legit when I say that it is haunted. I have witnesses if you don't believe me. Hecks no, as soon as I could I left cause I don't do scary things. Which makes no sense because, I love watching scary movies. Probs because I am not allowed to. Well after I got my things, I called my madre to pick me up and like always once I got home I showered, did my homework, and I fell asleep.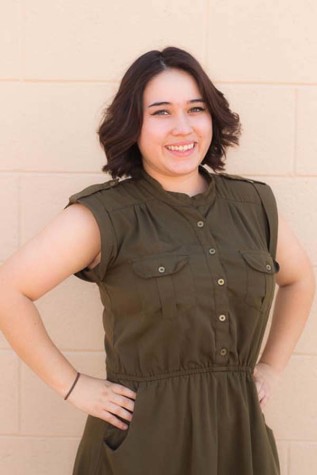 Kimberly Rodriguez, Editor in Chief Yearbook/Staff/ Anchor
Kimberly Rodriguez is a young, sweet, and energetic girl who is a senior at La Joya Community High School. Some of her hobbies include reading books, and...