This recipe can be time-consuming but it is all worth it in the end. The vanilla cake is not to sweet but is just right and this goes the same for the buttercream. This delicious dessert is all around great so if you would love to try it out continue reading.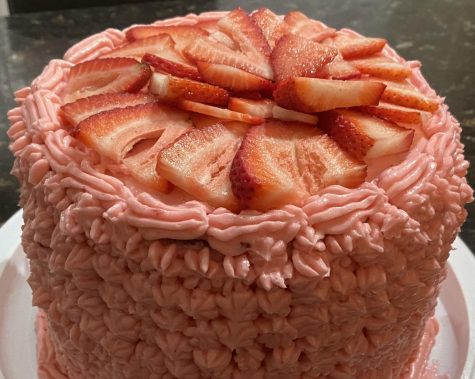 Vanilla Cake Ingredients
1 cup (2 sticks) of unsalted butter, room temperature
3 cups of granulated sugar
1 cup of pasteurized egg whites from a carton or about 7 egg whites
3 cups of self-rising cake flour
1 ½ cups full-fat sour cream, room temperature
1 tsp vanilla extract
¼ cup of vegetable oil
Strawberry Buttercream
18 fl oz. pasteurized liquid egg whites, or ¾ cups.
 72 oz. powdered sugar, or 6 cups
1.5 tsp salt
72 oz. unsalted butter, room temperature, or 6 sticks of butter
6 tbsp. vanilla extract
6 oz. freeze-dried strawberries
Substitutions and Swaps For The Vanilla Cake
The cake itself uses quite a few ingredients and I know not everybody will have these ingredients. Or for anyone who may have any allergies or restrictions here is a list of those replacements.
Unsalted Butter – If you only have salted butter around that's perfectly fine. You can still use the unsalted butter you just need to be sure to leave out any other salt that's involved in the vanilla cake recipe. You can also use vegan butter in it's place.
Granulated Sugar – I wouldn't recommend reducing any amounts of the granulated sugar or changing the type of sugar because this may result in change of texture in the cake layers.
Egg Whites – If you are unable to find egg whites in a carton or want to use whole eggs, then use 4 whole eggs in replace of the cup of egg whites. Or if you have an egg allergy then you can use 4 flaxseed eggs or 1 cup of unsweetened applesauce plus 1 extra Tbsp. of baking powder.
Self-Rising Cake Flour – If you can't find the flour then you are able to make your own. Measure out 3 cups of cake flour, then add 3/4 teaspoon of salt and 1 Tbsp. of baking powder. It's also okay to use all purpose flour in this recipe.
Sour Cream – You can use full fat yogurt, buttermilk, whole milk, or an alternative yogurt or milk.
Vegetable Oil – Any flavorless oil will work perfectly in this recipe.
Vanilla Cake Steps
Step 1 – Preheat oven to 350 degrees Fahrenheit. Line and grease a three 8-inch cake pans with parchment rounds.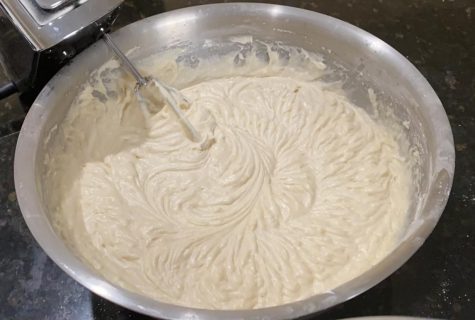 Step 2 – Add 1 cup of unsalted butter and 3 cups of granulated sugar into the bowl and mix. The mixture will become lighter as air is whipped into it.
Step 3 – Add 1 cup of egg whites and mix until the mixture looks fluffy. Then slowly mix in 1 ½ cups of self-rising cake flour until fully mixed.
Step 4 – Add 1 ½ cups of sour cream, 1 tsp vanilla extract, and ¼ cup of vegetable oil. Mix until combined completely.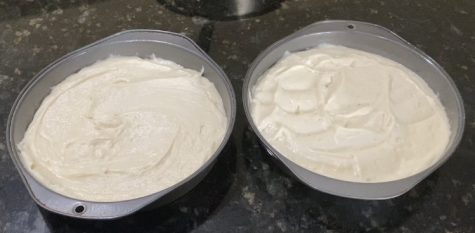 Step 5 – Mix in the remaining 1 ½ cups of self-rising cake flour. Once done mixing all ingredients you are now going to divide batter evenly between the prepared pans.
Step 6 – Bake for 34-35 minutes and once they are done baking let them cool for 10 minutes before decorating.
Strawberry Buttercream Steps
Step 1 – First, you're going to start by combining the whites, powdered sugar, and salt in a bowl and mix everything together.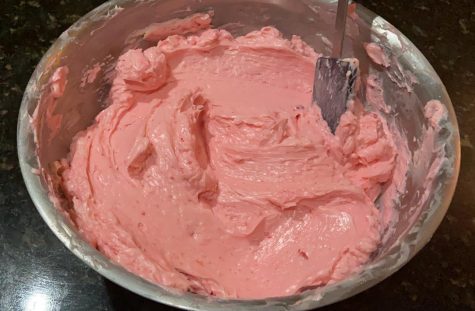 Step 2 – Start adding the softened room temperature butter. 1-2 tablespoons at a time. Once all the butter is added to the mix in the vanilla extract.
Step 3 – You will now start to blend your freeze-dried strawberries until they are a powder. Once you are done with that add the powder into your buttercream. Add a few drops of pink food coloring to brighten the color.
Once you have made your vanilla cake and strawberry buttercream then you are ready to start decorating. I started by adding in my layers so in between each layer I filled it with buttercream and strawberries. After all my layers were finished I began to cover my cake with buttercream and evenly spread it out. Now that's all you have to do to get the finished result of a vanilla layered strawberry cake. Enjoy!
Tips
When you are making your buttercream be sure to add in the butter in small proportions at a time so that you ensure everything is being blended together evenly. While I was making my buttercream I didn't do small proportions of my butter which led to the butter not being completely blended in. This caused the butter in my buttercream to overpower everything.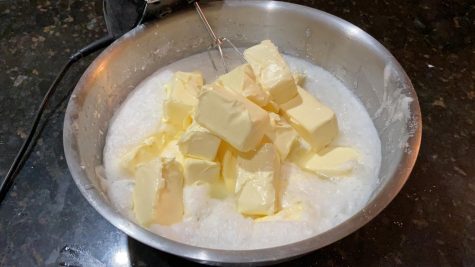 Once your cakes are done baking be sure to let them cool for at least 10 minutes so that you can avoid your cake breaking apart. I was in a rush and this resulted in my first cake falling apart.