Ways to Dress Up Your Lobo Outfits
Hang on for a minute...we're trying to find some more stories you might like.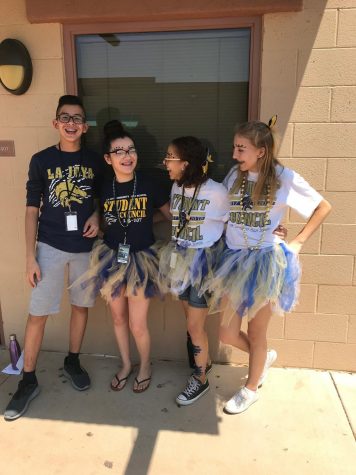 It's a new school year! Which means football games, spirit week and assembly's. It's the best time to show off your school spirit.
La Joya students are always looking for new ways to gain more school spirit, with school finally starting here are some ideas to show off your La Joya spirit.
Paint
Paint is  a requirement when going to any La Joya functions. You can express your spirit with a little blue and gold paint.
You can put the classic dots over your eyebrows and around your eyes or on your arm, you can represent your class by adding 'Junior' or '2020'.
Face paint is the best way to show off your Lobo pride, add a paw print on your cheek or show your love to our athletes by adding their number.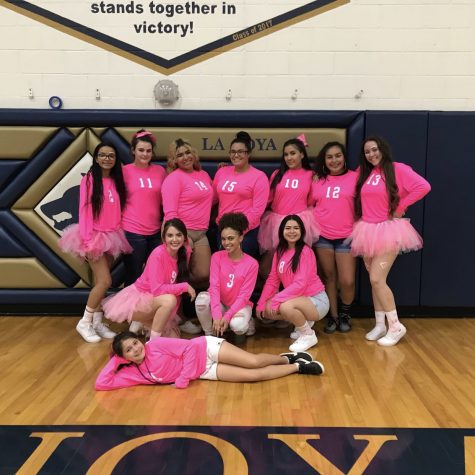 Accessories
Accessories are always fun to incorporate in your outfits.
One student added how there are many other things to add to your outfits.
"Face paint, lobo shirts, beads, tutus, bows, and glitter highlight" said Alberto Printor, a junior and a member of student council.
Tutus are the easiest for any school occasion, they are quick and simple and are one of the best ways to show off your La Joya Lobo pride.
Here's a quick summary on how to make your own tutu:
First, you need to measure your waist and find elastic band that fits around your waist.
Second, but tulle that is blue and gold, or you can do pink for breast cancer awareness month.
Lastly, and the most fun part, tie the ribbon around the band as thick or thin as you please.
Now you have the best blue and gold themed tutu!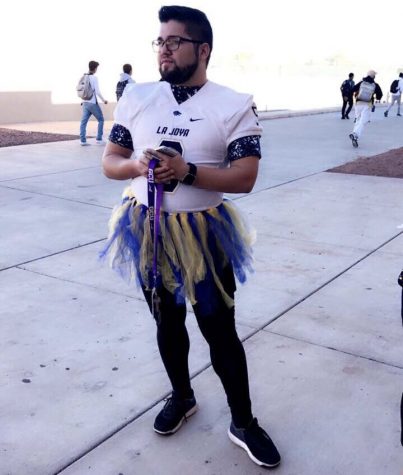 How to improve La Joya's spirit
Some students have commented on ways we can improve our spirit at La Joya.
Students were asked how can staff improve our school activities, like spirit week.
"Staff can improve our lobo spirit by dressing up , this will show that they aren't embarrassed to show their lobo spirit." Said Matthew Fernandez, a junior and NHS member.
Another student was asked 'do you have any ideas on improving our school spirit weeks?'
When asked, they talked about how they should,
"Let students know ahead of time for spirit weeks because we usually hear about it day before or not at all" said Ariana Conley, also a junior and junior varsity volleyball player.
Dressing up for school events and activities can improve our school events drastically, people are too afraid to show off their colors, if we encourage our staff to participate and our students, our assembly's and football games will be ten times better!