Recently this years winter trend has been to make hot chocolate bombs. For those who don't know what these are they are spheres filled with hot chocolate mix and marshmallows. You pour hot milk or water over the top of the sphere and watch as the chocolate melts away releasing your marshmallows and hot chocolate mix. These hot chocolate bombs are very fun to make and are perfect gifts for friends and family.  If you'd like to know how to make these delicious spheres read on to find out.
INGREDIENTS AND TOOLS NEEDED TO MAKE HOT CHOCOLATE BOMBS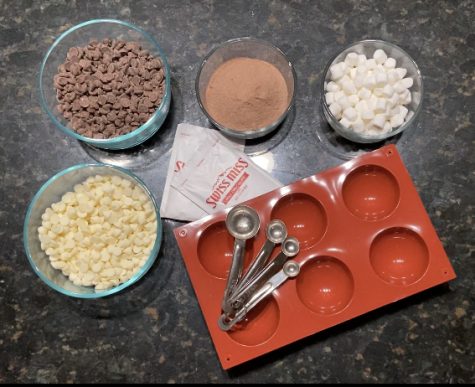 Hot chocolate mix of your choice.
Mini marshmallows of your choice. I decided to use normal mini marshmallows.
Chocolate of your choice. I did white chocolate and milk chocolate.
Silicone semi sphere chocolate molds to make your bombs.
Measuring spoons, these are optional so that you have them to measure the amount of hot chocolate mix you want in your bomb.
A brush to evenly spread out chocolate in mold. I used a spoon instead of a brush to spread the chocolate and it still worked perfectly so it's up to you.
STEPS TO MAKE HOT CHOCOLATE BOMBS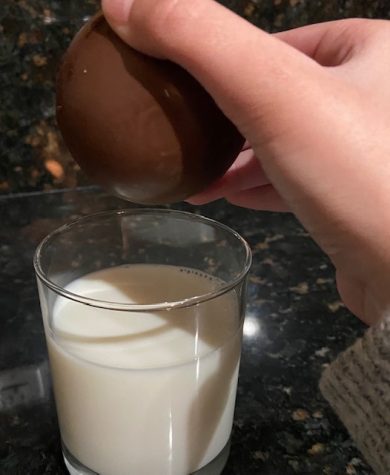 Melt chocolate for 15 seconds until completely melted.
Place chocolate in molds, you may need 2 coats of chocolate.
Cool down chocolate  in fridge or freezer.
Melt bottom of Spheres on warm plate.
Put hot chocolate mix in your sphere.
Add your marshmallows to your half sphere.
Put together your spheres.
Cool down in fridge or freezer.
Heat up milk or water.
Enjoy your hot chocolate bombs!
HOW TO MAKE HOT CHOCOLATE BOMBS STEP BY STEP
Step 1- First when getting started to make your hot chocolate bombs you want to melt your chocolate. You can melt your chocolate over the stove or in the microwave. I decided to melt my chocolate in the microwave  for 15 minutes and after each 15 minutes I mixed the ch0colate until it was completely melted.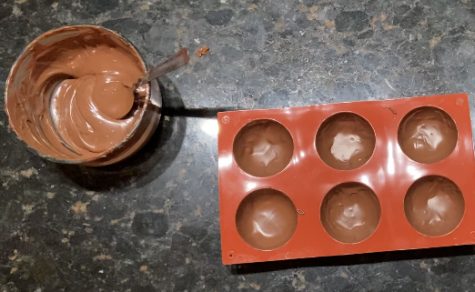 Step 2- After melting your chocolate you can start spreading your chocolate in your mold. During this process you want to make sure all the chocolate is spread out completely all around the mold. Once you complete spreading the chocolate place the mold in the fridge for about 10 minutes. You may need a second layer to your chocolate molds because they may be to thin at first to put together. So be sure to add an extra layer if needed.
Step 3- Once you are done making your molds of the chocolate you can now start putting together your chocolate. What I did was I heated up a microwavable plate for about a minute to melt my chocolate spheres. I started by placing my spheres on the plate for a couple of seconds to get the chocolate melted enough to stick the two spheres together. I put 1 tablespoon of hot chocolate mix in my sphere and a handful of marshmallows. Once all of my ingredients were in the half of the sphere I grabbed the other and melted it once more to stick the spheres together. There may be some remaining chocolate on the sides and all you have to do is smear it so that the chocolate is stuck to each other. Once you are done with this process place them in the fridge for 10 minutes to cool down.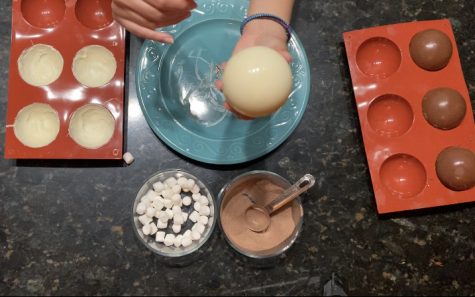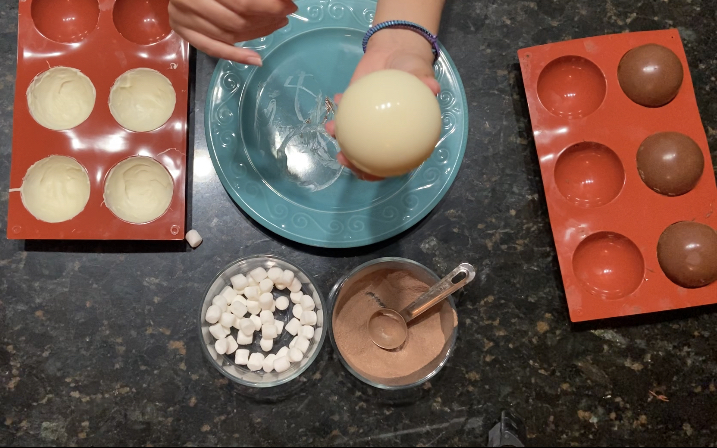 Step 4-  Now that you have put your bombs together and let them cool down you can now enjoy them. I decided to warm up milk but it's your choice whether you want to use your selection of milk or water. You can place your hot chocolate bomb in your cup and pour your warm milk over it or you can place the bomb in after you have poured your milk.