Instead of going to Starbucks, why not just make the dessert your self if you have all the ingredients at home. It is easy to do, and something delicious to add to your morning coffee.
Begin by pre-heating your oven to 350 degrees. Following that we will begin m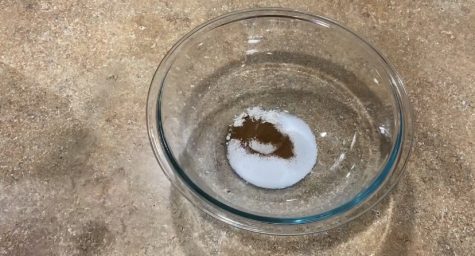 making our 3 different layers- the streusel topping, the cinnamon mixture, and the cake batter.
Starting of with the Cinnamon Layer, grab a bowl and add 1/4 cups sugar, 1 tablespoon of all purpose flour and 1/2 teaspoon
of cinnamon. When all joined together begin to whisk until you get a light brown mixture.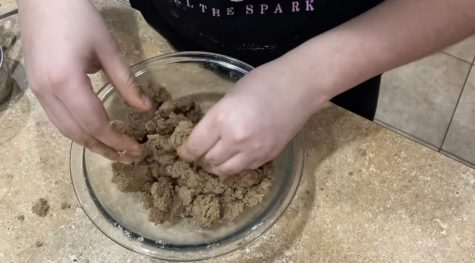 Now to the Streusel Topping. With a new bowl add 1 cup of brown sugar, 1 cup of all purpose flour, 1 teaspoon of cinnamon, a pinch of kosher salt, and 1/2 cup of
unsalted butter. Then press down the butter into the mixture until it is not as visible. Continue mixing by hand until all the ingredients turn into a medium brown color like this.
Continuing with the Cake Batter grab a new bowl, in this case I will be using my KitchenAid Stand Mixer and it's bowl. To it's bowl add 3 cups all-purpose flour, 2 1/4 cups of sugar, 3/4 teaspoon baking powder, 1/2 teaspoon baking soda, 1/2 teaspoon of salt, 1 cup of unsalted butter, 1 cup of sour cream, 1/4 cup of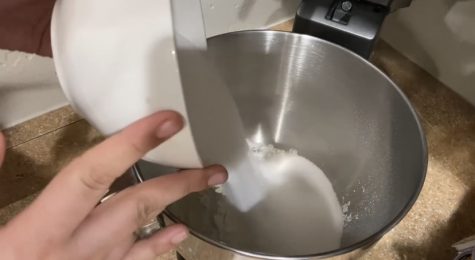 whole milk, 4 large eggs and lastly 1 tablespoon of vanillas extract.
While that mixes for a couple minutes, add PAN to your pan or any type of product you use to let your dessert not stick to your pan.
Continuing with well mixed batter and PAN  all set on our pan we can begin to layer all three- the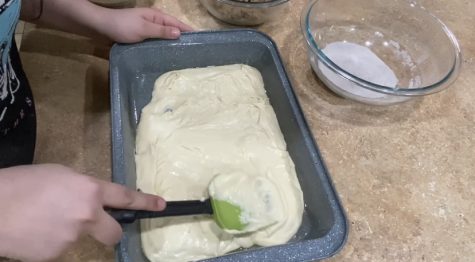 streusel topping, cinnamon mixture and cake batter. Begin by adding half of your cake batter to your pan, and begin pushing it carefully to the sides and corners of your pan. Once you have that done, continue by adding your cinnamon mixture on top of it, with the same procedure of all over, on top, of your cake batter. Additionally add the rest of your cake batter! Gently push it around your cake batter, letting it touch the sides and corners of your pan. Finally add your streusel topping on top of your cake batter. Crumble it all around, corners to sides.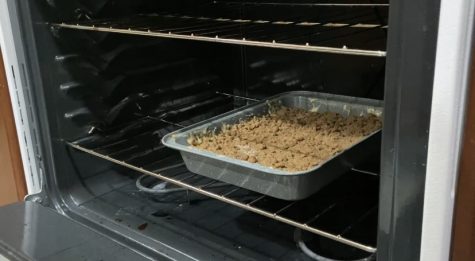 Lastly, put it in the oven and let it bake for 350 degrees for about 15 to 30 minutes depending on your oven.
After 15ish minutes check your cake if it is ready. Do that by using a butter knife and if nothing sticks to it, it is ready. Let it cool for an hour and then it is ready to serve!