As we all know, Thanksgiving is just around the corner. Today I'll be showing you how to make a Thanksgiving treat. Now these treats will suit the Thanksgiving Turkey vibes.
What You Need:
Mini pretzels
Rolo candies
Candy corn
Yellow or orange M&Ms or Reese's Pieces
Candy eyeballs or mini jawbreakers
Tray
Parchment Paper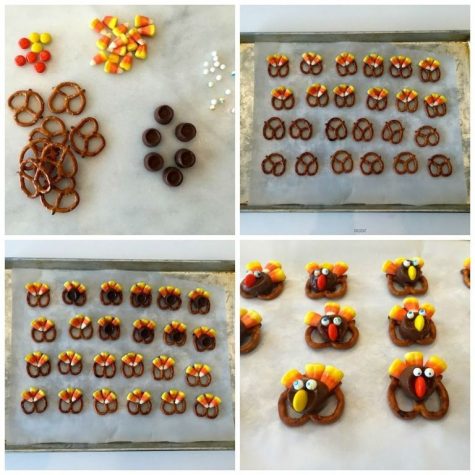 Now that you have what you need, let's get started, shall we?
Step 1: Preheat the oven to 300° F.
Step 2: Spread the pretzels on the tray with the salty side down.
Step 3: For each pretzel, place three candy corns, so the white tips are touching.
Step 4: Place a Rolo on the three white tips of the candy corn. Then place your turkey heads in the oven for 2 minutes.
Step 5: take them out when the 2-minute mark has ended.
Step 6: Add two candy eyes and m&m or Reese's Pieces as the beaks (yellow or orange) and slowly add them onto the Rolo.
Step 7: Let them cool down for at least 30 minutes before serving.
Now we can stop here, but if you still want to create a diverse set of Turkey treats, then I don't see why we can't right?
Now for this one, you'll need:
 Pretzel rods

1 cup of chocolate chips

Thin chocolate-covered cookies (like Thin Mints or Grasshopper Cookies)

Candy Corn 

Candy eyeballs 

Yellow or orange M&Ms or Reese's Pieces

Chocolate frosting 

Tray

Parchment Paper

Microwave safe bowl or jar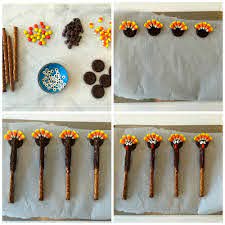 Now let's get ready, now that you have gathered all your ingredients, let's start with the steps.
Step 1: Place the cookies on a baking sheet aligned with parchment, leaving adequate room for the pretzel rods to go beneath.
Step 2: Add a bit of frosting to the top of the cookie to add 5 candy corns.
Step 3: In a microwave-safe bowl or jar, microwave the chocolate chips, stopping and mixing every 30 seconds until melted.
Step 4: Dip the pretzels into the chocolate 2/3 way and roll to coat. Shake off excess and lay on the middle of chocolate cookies.
Step 5: Apply 2 candy eyes and an M&M beak to the top of the pretzel rods.
6. Place in the refrigerator for 10 minutes to set.
Now we're finished, this would be a cute Idea for parties or gifts for your beloved ones.
Credits to the Recipe: https://www.goodhousekeeping.com/holidays/thanksgiving-ideas/a35469/candy-turkey-shaped-desserts/