Need for Speed Heat is a open-world racing game that is set in the fictional world of Palm City (based on the city of Miami). The game aims to capture the street racing audience and it did so with ease. Need for Speed Heat's new day & night mechanic allows you choose on what they should do, either racing in day-time events for money or raise your level (unlocking new cars and parts) at night.
IGN says that, "…developer Ghost [Games] has finally built a racer that feels fittingly faithful to the roots of Need for Speed."
Palm City has a wide variety of environments. From forests, swamps, the countryside, a space station, loading docks, and the big city. The game includes fast travel, if the player doesn't feel like driving across the map.
Need for Speed Heat's mechanics really changes how the player races. In day-time events, cops will leave you and the other racers alone, unless you crashes into them. In night-time races, the cops are actively looking to stop you from racing by any means necessary. The cops are not easy to lose (unlike Need for Speed 2015) and the game gives you a feeling of tension whenever a cop ties to ram into your car.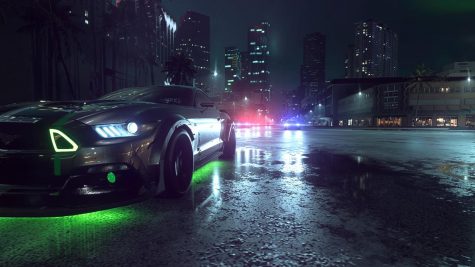 Metacritic states that, "…under the cover of darkness patrols a rogue task force looking to bring you down and swipe all you've earned. Take them on and risk it all for underground glory or head back to your safehouse."
Need for Speed Heat has the biggest car list in Need for Speed history. There are 135 cars in the game. The game includes famous brands like Aston Martin, BMW, Chevrolet, Dodge, Ferrari, Ford, Lamborghini, Mitsubishi, Nissan, and 24 other brands.
You can upgrade your car's performance. You are able to tweak your car's handling and turn your car into a road, race, off-road, or drift car.  There are different tiers when it comes to upgrading your car. It starts at "Stock", then "Sport", "Pro", "Pro+", "Super", "Super+", "Elite", "Elite+", "Ultimate," and lastly "Ultimate+". Stock being the lowest performance part and Ultimate+ being the best performance part for your car. For the first time ever, engine swap is now in the game. Engine swap allows you to swap your stock engine for an engine with more horsepower (it allows you to make your car to be even faster). The game also added an "Auxiliary" section, which has two parts "Active" and "Passive". The "Active" part allows you to get a nitrous refill, repair kit, or kill switch jammer when pressing "circle" on PS4 or pressing "B" on Xbox. The "Passive" part is always in use as soon as you purchase it. "Passive" parts include a radar disruptor, reinflatable tires, damage increase, damage reduction, etc.
Many cars can be customized. You are able to change the "body" parts, rims, paint color, underglow, stance, and the sound of the exhaust of your car. Some cars that have a low customization rating (of 3 or lower) or have a star symbol in the dealership can't really be customized. The most you can do is change the rims, paint color, and add/remove a livery; you can still upgrade those cars to be faster.
Need for Speed Heat doesn't have microtransactions. It does, however, include paid DLC (downloadable content). There are 3 DLCs available right now for purchase… the "McLaren F1 Black Market Delivery", "Deluxe Upgrade", and "Keys to the Map". The "McLaren F1 Black Market Delivery" includes the McLaren F1, new special customization parts, character outfits, vanity items, and decals. The "Deluxe Upgrade" includes 5 K.S Edition cars, 4 exclusive character outfits, and a REP and Bank boost. "Keys to the Map" allows you to see every collectible, location, and activity in the map.
Need for Speed Heat returns to the franchise's roots and it's faithful to what the series have always been about. It looks like the franchise is learning from its past mistakes from earlier games like Need for Speed (2015), Need for Speed: Payback, and Need for Speed: Most Wanted (2012). The game is a step forward in the right direction that the series should take. The game has its fair share of bugs. The game can be friendly or cruel depending on the difficulty you put the game on. Need for Speed Heat is perfect for those gamers who like the racing genre or for those who like the car/racing world.